AKOYA Live Webinar 
July 20, 2021  | 

9:00 – 10:00 AM BKK Time



How Multiplex Tissue Imaging technology solves your tissue complexity
AKOYA BIOSCIENCES provides the CODEX technology, originally developed in the lab of Dr. Garry Nolan at Stanford University, uses antibodies conjugated to a proprietary library of oligonucleotides called Barcodes. This enables customizable panels of up to 40+ CODEX Antibodies to be combined for a single tissue staining reaction.
Advantages of CODEX technology:
•    Providing full spatial context and not limited to just regions of interest (ROI)
•    Providing single-cell resolution down to 600 nm or 250 nm depending on microscope objective used
(20X and 40X respectively)
•    Single-step staining and gentle fluorophore removal preserves the sample for ROI analysis

This webinar will provide a technical overview of the technique as well as details of possible applications of the approach and how Multiplex Tissue Imaging technology solves your tissue complexity. Moreover, AKOYA BIOSCIENCES provides Phenoptics solution for your translational biomarker research enable you to understand the biology driving disease better than ever.
The program for the webinar is shown below: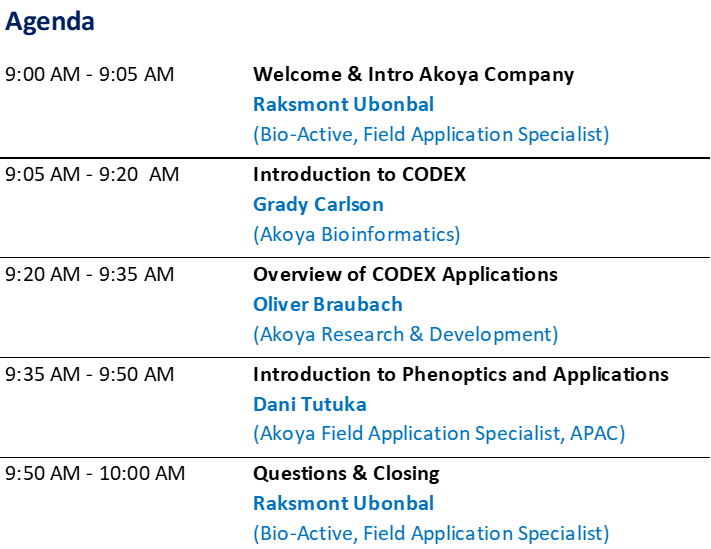 For more information, please contact: CLICK